10 x 4.5 Filtration Systems

Filter
10 inch water filters provide an excellent way to safeguard your family's health through drinking crystal-clear pure water. They contain cartridges that allow water to pass through their tiny pores while effectively sieving out particles, matter, and toxic chemicals.
These purification systems either have single, double or triple cartridges. Their quality housing allows them to withstand high water pressure without collapsing. 
Some of the most common pollutants that 10 x 4.5 whole house water filters get rid of include sand, pebbles, silt, shale, clastic, and rust. They also get rid of toxic gases and hazardous compounds such as pesticides and pharmaceuticals. Additionally, they reduce limescale, which will likely corrode your pipes and spoil your cooking and cleaning appliances.
Types of whole house 10 inch water filters
The types of 10" whole house water filter systems are:
This type of treatment technology confines matter and other toxic materials through the help of cartridges. 
Normally, it has a sediment cartridge for sifting debris and matter and a carbon cartridge that will eliminate soluble gases, chemicals, and metals. However, to maintain its efficacy, you need to switch the cartridges at least twice a year or as the manufacturer instructs.
This type of whole house purification technology does not have cartridges. Instead, it is a large tank with decontamination media. When water flows into the tank, it goes through the media, which rids it of chemicals and other toxins.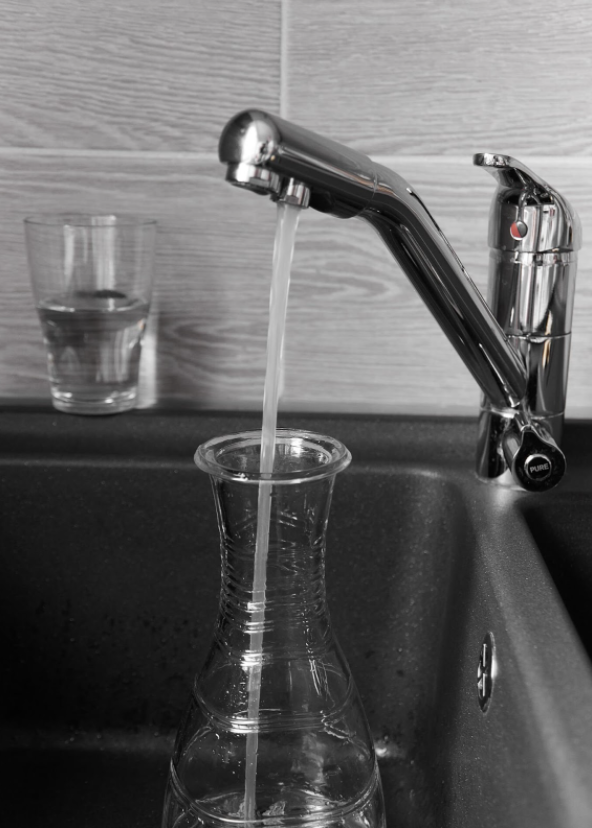 So, once or twice a week, the system will flush water into the tank, clean the media and dispose of the pollutants through the drain. With a clean filter, your family enjoys pure water.
Advantages of using whole house filters for water
The perks of using a water filter for the whole house are:
Access to clean water: Since purification happens at the household's main inlet, you enjoy pure water in every room with access to water.

Enjoy optimal health: Apart from the obvious health benefits of consuming water free from illness-causing germs, you also shower and wash clothes with decontaminated water, significantly reducing the risks of skin diseases. 

Promotes the longevity of household appliances: A 10 in whole house filter will eliminate or lower limescale and other harsh substances that will corrode or wreak havoc on your household appliances.

It is cost-effective: purchasing store-bought water can be expensive, especially for large families. Also, when you decide to buy 10 inch whole house filtration system, expect to part with a couple of dollars. However, this is a one-off initial cost. These purification systems require minimal maintenance, and you will only need to change the cartridges at least 2 times a year. 
Filterway delivers replacement cartridges to homes and commercial industries in US. Visit our website to place an order.
FAQ