Filter
Are you looking for a superb way to access crystal clear water in your home or rental apartment without the need to drill unsightly holes on your countertop? 
Inline home water filters have got you covered!
These filters are installed under the sink. However, unlike their under-sink RO counterparts, they do not require a dedicated faucet - one of the main reasons they are a popular choice even for tenants. Instead, they use the main tap found on your countertop.
As their name suggests, these cartridges are easily mounted under the sink and attached directly to the cold waterline. As dual stage water filters, they eliminate a high number of soluble and insoluble pollutants, helping keep your family safe from water-borne diseases.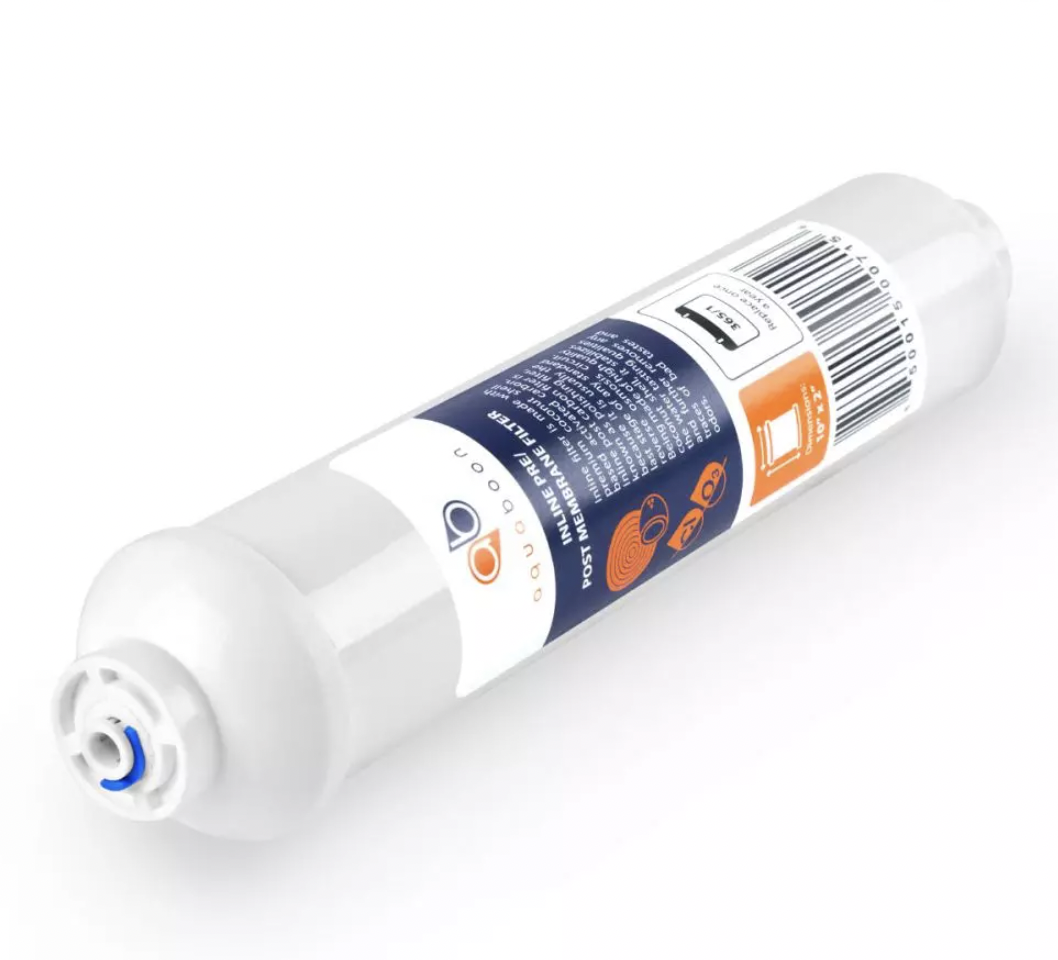 However, you need to understand that an inline filtration system is only ideal for point-of-use applications. So, if you need to access clean water in the kitchen or maybe the washroom sink, you must attach separate RO inline filters at each faucet.
Contaminants that RO inline filters can remove
An under sink inline water filter can get rid of a host of impurities, including;
Treatment plants use chloramines to kill germs and other harmful substances that can be found in water. However, the purification process may leave the water with an unpleasant aftertaste. These cartridges for sink will neutralize the chloramines, allowing you to enjoy tasty glass contents.
Have you ever noticed the white stain deposits on your faucets, coffee maker, or boiler?
That is limescale.
Limescale is notorious for significantly affecting the longevity of home appliances. Luckily, these cartridges are specially designed to get rid of calcium and magnesium, the minerals that cause limescale.
Sand, silt, debris, and other insoluble particles are pollutants that a reverse osmosis inline water filter will remove. These particles are sieved out in the initial purification process hindering them from making their way to the carbon cartridges and disrupting their filtration efficiency.
These cartridges will remove various pesticides, herbicides, and hydrogen sulfide. They will also get rid of trace metals, keeping you hydrated healthily.
Advantages of using inline undersink water filters for home
Attaching an inline sediment water filter into your water line has a myriad of perks. They include:
Radiant-looking skin, properly functioning organs, and better temperature regulation are some of the benefits of drinking filtered water.
These cartridges confine harmful pathogens that may cause cholera, dysentery, typhoid, amoebiasis, e.coli, and other water-borne diseases.
Enjoy better-tasting water:
Contaminants and chloramines will often ruin how water tastes. Hydrogen sulfide, for instance, will create a foul smell. These mineral filters for water will eliminate these unwanted substances, leaving you with fresh contents for your family to enjoy.
Unlike whole-house filtration systems and undercounter RO systems, mounting these cartridges will not require you to call a plumber. They come with an easy-to-follow installation guide that even the not-so-DIY-savvy person can mount it.
Unlike systems with large tanks, inline water filter cartridges are just that-cartridges! As such, they can fit even in the tiniest under sink space. Furthermore, you can mount them horizontally or vertically - whichever fits.
These cartridges are not only ideal for your kitchen sink but are cut out for different applications, including but not limited to fridges, boats, Icelanders, and coolers.
These cartridges are made to last and withstand the chemicals, gases, and hazardous metals that they come into contact with. They can last anything from 6 months to a year. Once they have reached their working life, switching them for newer ones is the only way to guarantee a steady flow of water.
Talking of steady flow…
While a low water flow is a compromise you might have to take with some systems, that is not the case with these cartridges. Instead, they have high flow rates making them ideal for regular kitchen use.
Where to order inline filter systems in the US?
Filterway is your best bet when looking for the perfect place to order an inline drinking water filter or any other home purification system in the US. They are all of impeccable quality and guarantee high purification. 
Contact us today to place your order.
FAQ