3-Stage 20" Whole House Water Filtration System by Aquaboon AB-3WHPG20BB-1C20BB5M-1G20BB5M-1S20BB5M

SKU#:
AB-3WH20BBS-1C20BB5M-1G20BB5M-1S20BB5M
You are covered by this unconditional money-back guarantee for a full 30 days from your date of purchase.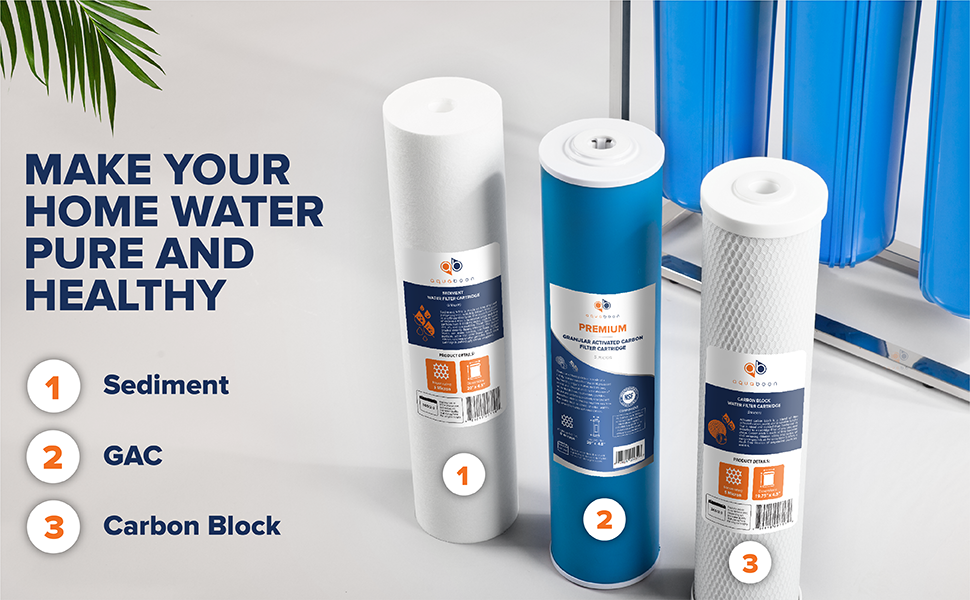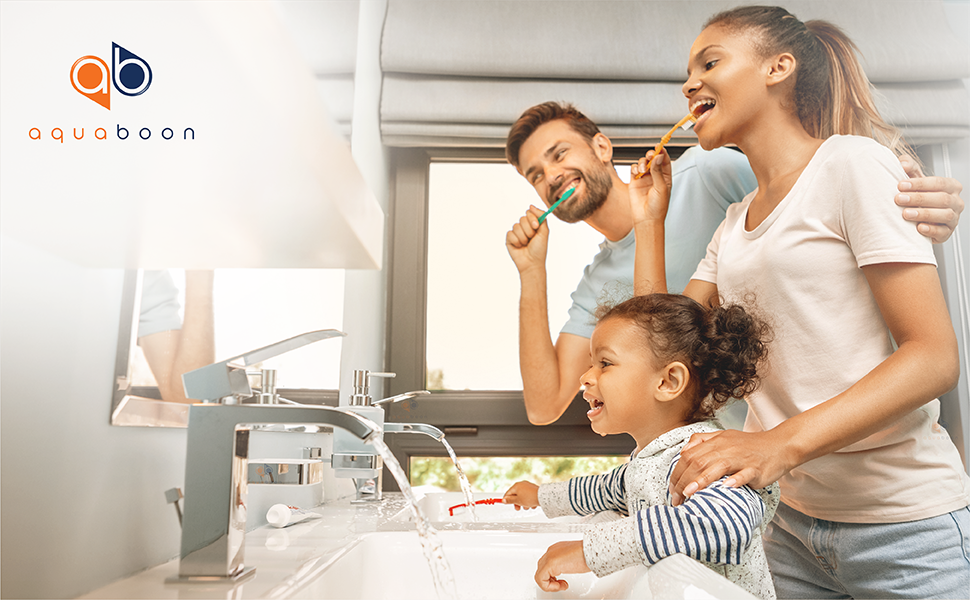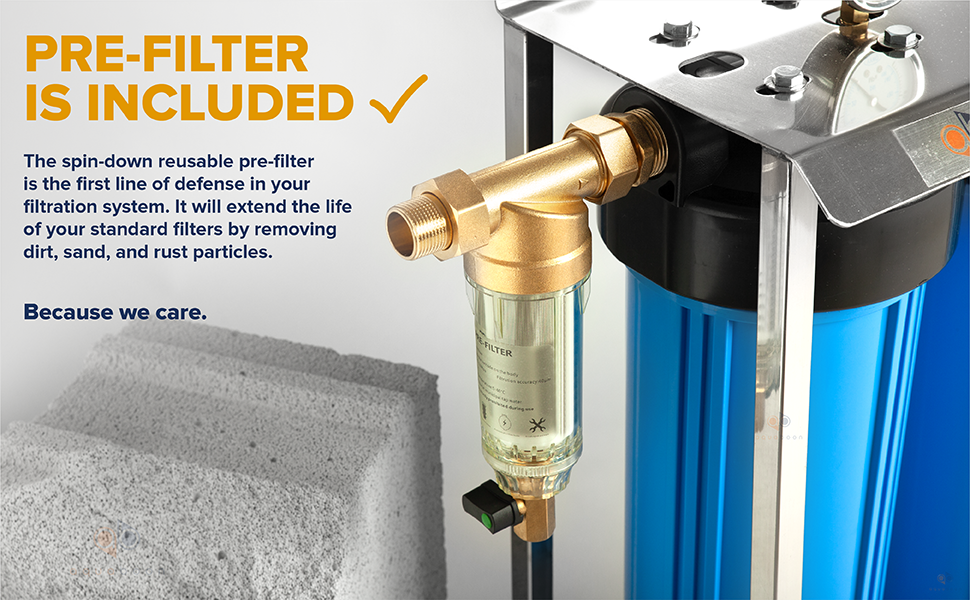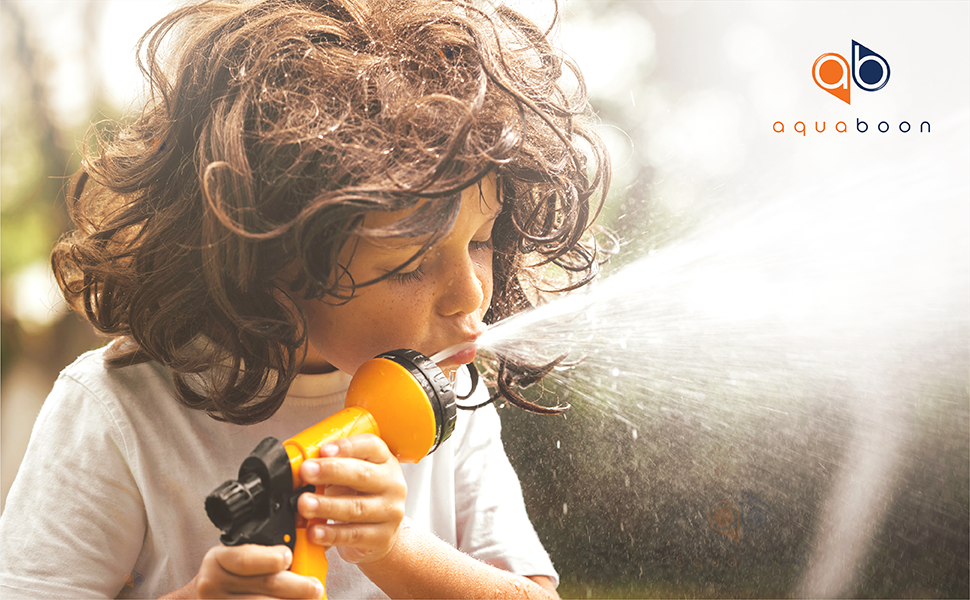 [COMPLETE SOLUTION FOR YOUR HOME] Complete 3-stage whole house water filtration system by Aquaboon. 1-stage:Remove sand, dirt, silt, rust particles. 2-stage:Removes Chlorine, TOC, Pharmaceuticals, Turbidity, Pesticides, hydrogen sulfide, Chemicals, bad tastes, odors. 3-stage:Remove Chlorine, VOC, Herbicides, pesticides, Industrial Solvents, Insecticides, hydrogen sulfide, Chemicals, odors. Extend the life of your dishwasher and other appliances, and reduce cost of the energy.
[HIGH CAPACITY AND SAFE WATER] Big Housing Blue Color Filter housings are made from FDA grade polypropylene, tested and verified to meet NSF requirements. Perfect for your home, can be used for Municipal and Well Water Applications. Provide every faucet in your whole house with safe and clean water! Save your money and time with 20 inch housings and large Big Housing Blue Color filters which provide more capacity, fewer flow restrictions and longer life with less frequent services.
[USE WITH EASY] With our instruction you can use and install 3-stage whole house water filtration system with no problem. Housing Bracket so You can choose mounted or unmounted installation. Pressure gauges help to monitoring your system and to know which filter you need to change and when. Remove the filters with easy thanks to Pressure release buttons. The black cap has 1" female National Pipe Thread Taper (NPT) threaded input and output connections, DOUBLE O-ring to ensure watertight seal
[INCLUDES] 3 OF 20" Big Housing Blue Color WHOLE HOUSE FILTER HOUSINGS WITH PRESSURE GAUGES and Pressure release buttons, Housing Bracket, 1 PACK OF 20'' WHOLE HOUSE PREMIUM GRANULAR ACTIVATED CARBON (GAC) FILTER CARTRIDGE (5 MICRON), 1 PACK OF 20'' WHOLE HOUSE Big Housing Blue Color CARBON BLOCK CTO WATER FILTER CARTRIDGE (5 MICRON), 1 PACK OF 20'' WHOLE HOUSE Big Housing Blue Color SEDIMENT WATER FILTER CARTRIDGE (5 MICRON), Wrench, Screws, 2 of 1" x 1" Nipples.
[COMPATIBLE 20 INCH CARTRIDGES] American Plumber WRC25HD20, AquaPure AP810-2, Bunn C-30, Filter Specialist CMMF0520-45W1, CiSpring FC25B, FP25B, KX Matrikx KX-MATRIKX-CTO2-HD20, MatriKX 32-425-125-20, 32-450-20-GREEN, MAX WATER USA Inc. 104114-4, Pentek 155249-43, 155358-43, CBC-20BB, EP-20BB, EPM-20BB, GAC-20BB, RFC20-BB, Pro Water Parts 2-452005-AC, Ronaqua 2C-20BB, Selecto 101-300, Watts MAXETW-FF20, WATTS-MAXETW-FF20, etc.
BONUS PRE-FILTER. The spin-down reusable pre-filter is the first line of defense in your filtration system. It will extend the life of your standard filters by removing dirt, sand, and rust particles. Because we care.
| | |
| --- | --- |
| Actual Dimensions | L 22 3/8" x D 9 5/8" x H 26 1/4" |
| Production Rate | 15 Gallons Per Minute |
| Working Pressure | 40-80 PSI |
| Temperature Range | 40-100°F (38°C) |
| Weight | 60 lbs |
| Warranty | 1 Year Limited Warranty |
| Filters | Carbon Block Filter, GAC Filter, Sediment Filter, Pre Filter |