1-Stage 20" Whole House Water Filtration System by Aquaboon AB-WH20BB-1S20BB5M

You are covered by this unconditional money-back guarantee for a full 30 days from your date of purchase.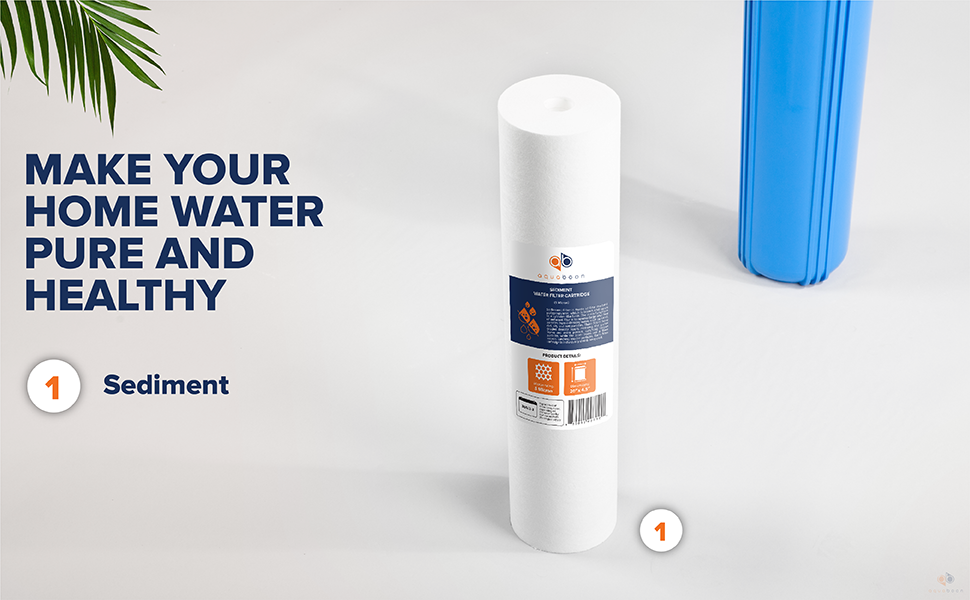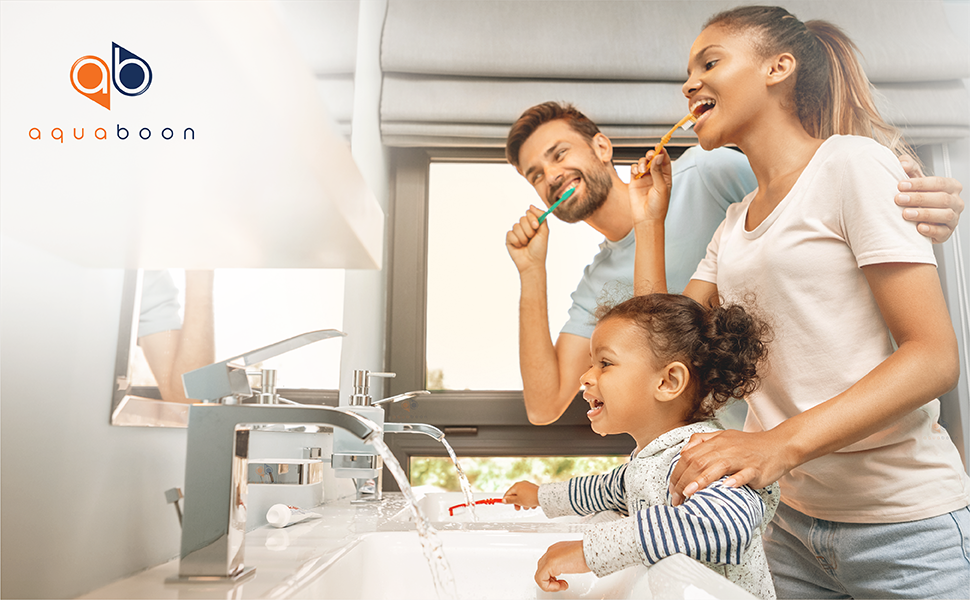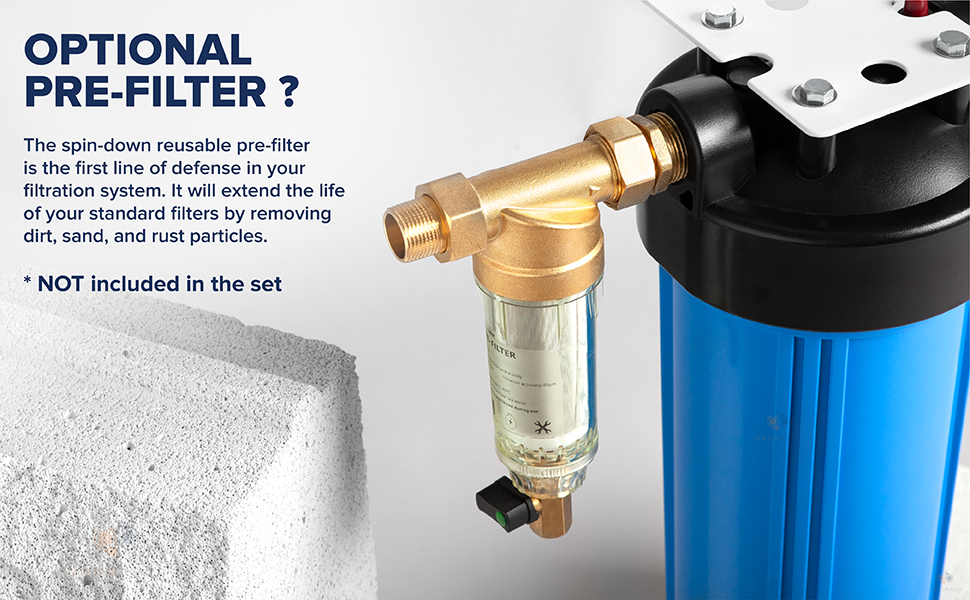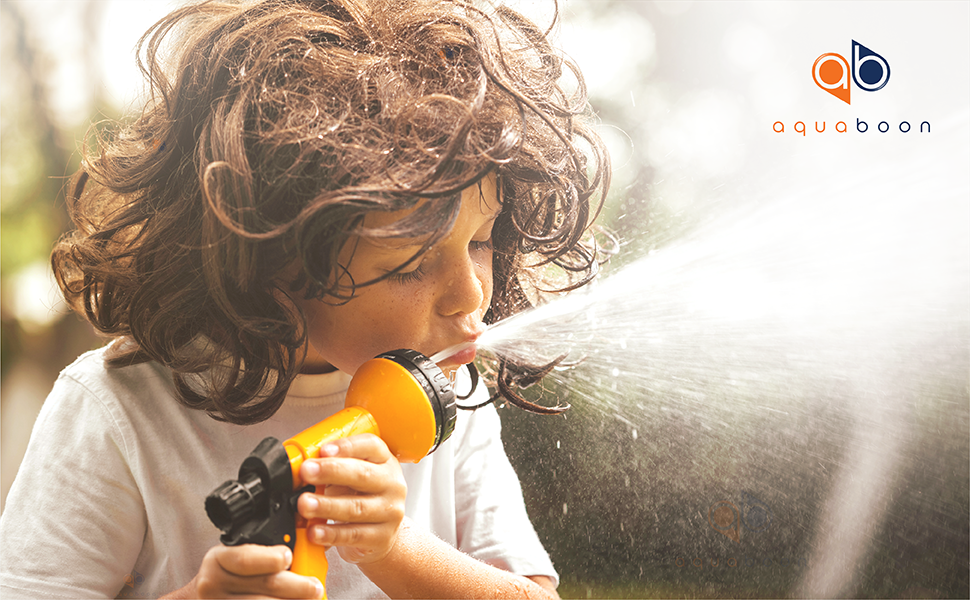 [USEFULNESS] Are you tired from sitting by and watching as a weak jet of water trickle from your tab or dark spots appear on fixtures and toilets? Do you unexpectedly find out your home appliances have a short service life? Some of you don't even guess that it is your running water that needs to be improved. Our sediment water filter 20" system will help you forget about all this by removing such insoluble particles like rust flakes, sand grains, clay, debris and small pieces of organic matter
UTILITY
Are you tired of helplessly watching a feeble stream of water trickle from your tap or noticing unsightly dark spots on your fixtures and toilets? Have you ever been surprised by the short lifespan of your home appliances? For some of you, it might not even occur that your running water quality could be the issue. Our 20-inch sediment water filter system is here to alleviate these concerns by effectively eliminating insoluble particles such as rust flakes, sand grains, clay, debris, and small fragments of organic matter.
LIFESPAN
Don't attempt to gauge the effectiveness of a 5-micron sediment water filter solely based on its appearance. The primary indicator for replacing the whole house sediment replacement cartridge is the pressure drop it causes. Typically, it lasts for 4-6 months (equivalent to 20,000 gallons) while maintaining a flow rate of up to a quarter gallon of water per second. It's crucial to note that the filter's lifespan is inversely related to the level of impurities present in your water.
HOUSING
Our 4.5 x 20-inch sediment filter system boasts a sturdy structure that remains intact under normal conditions when using tap water. Crafted from polypropylene, this product ensures the safety of its housing contents due to its high resistance to bacteria and chemicals. The sediment filter system can withstand pressures of up to 90 PSI (6.20 bar) and temperatures of up to 125°F (52°C). Moreover, the filter housing is FDA validated to meet material requirements.
COMPATIBLE SYSTEMS
Our sediment filter system is compatible with a variety of systems, including BLUONICS BLCL20SED, R20BB-S, Geekpure 124-20&PP, KleenWater KW-Premier-4520BT-1inch-KW4520G(3), Ronaqua RA-124-20-PP-20BB-5M, 124-20S-5S, COMIN18JU047995, RA-124-20-5S, 124-20-S5-Set, Tier1 FH-20-45-SEDIMENT-KIT, 3M AquaPure AP802, Geekpure BB-20B, Pentek 150234, 150235, HFPP-1-PR20, 158129, HFPP-34-PR-203, 150069, 166201, BBFS-222, 150070, 150070, Ronaqua RA-1-124-20S, RA-2-124-20S, SimPure RSWHB002Z_S8, Water Filters Depot (WFD) H-20BB-1PR, Better Aqua BA-BB-2045.
COMPATIBLE CARTRIDGES
Compatible cartridges include 3M Aqua-Pure AP810-2, 5618903, ClearChoice CCS034, Express Water FLTWH2045S02, H2O LF-PP-005-508, iSpring FP25B, FP25BX2, Liquatec SDF-45-2005, Neo-Pure MBGC-45200-05, Pentek DGD-5005-20, 155358-43, CWD-PENTEK-DGD-5005-20, Ronaqua 10S-20BB5, 2C-20BB5, BBSED-20B4, SpiroPure SP-DD-5005-20BB, Tier1 P5-20BB, Valuetrex VX05-20BB, Viqua CMB-520-HF, Watts FPMB-BB5-20, WholesalemarketLLC PP-20B10.
OPTIONAL PRE-FILTER
Enhance your filtration system with our reusable spin-down pre-filter, serving as the first line of defense. It prolongs the lifespan of your standard filters by effectively removing dirt, sand, and rust particles. Please note that the pre-filter is not included in the set.
| | |
| --- | --- |
| Actual Dimensions | L 7" x D 7 3/4" x H 23" |
| Production Rate | 15 Gallons Per Minute |
| Working Pressure | 40-80 PSI |
| Temperature Range | 40-100°F (38°C) |
| Weight | 14 lbs |
| Warranty | 1 Year Limited Warranty |
| Filters | Sediment Filter |