2-Stage 20" Whole House Aquaboon Water Filtration System

SKU#:
AB-2WH20BB-1C20BB5M-1S20BB5M
You are covered by this unconditional money-back guarantee for a full 30 days from your date of purchase.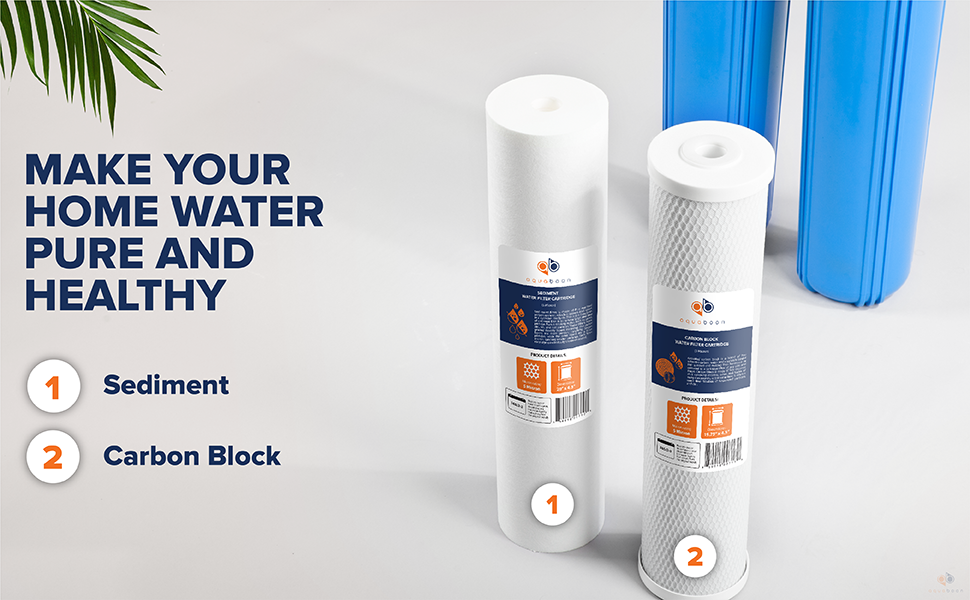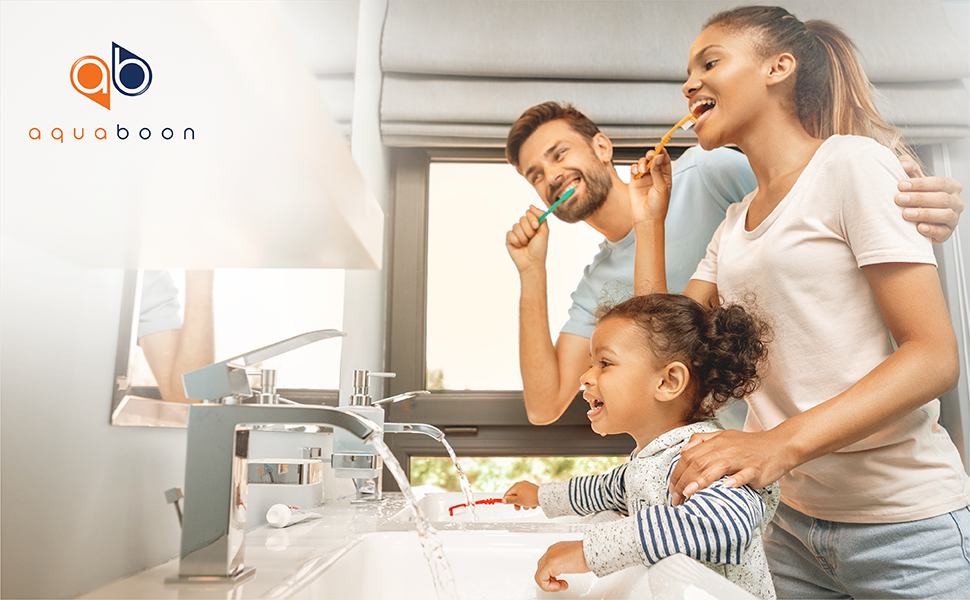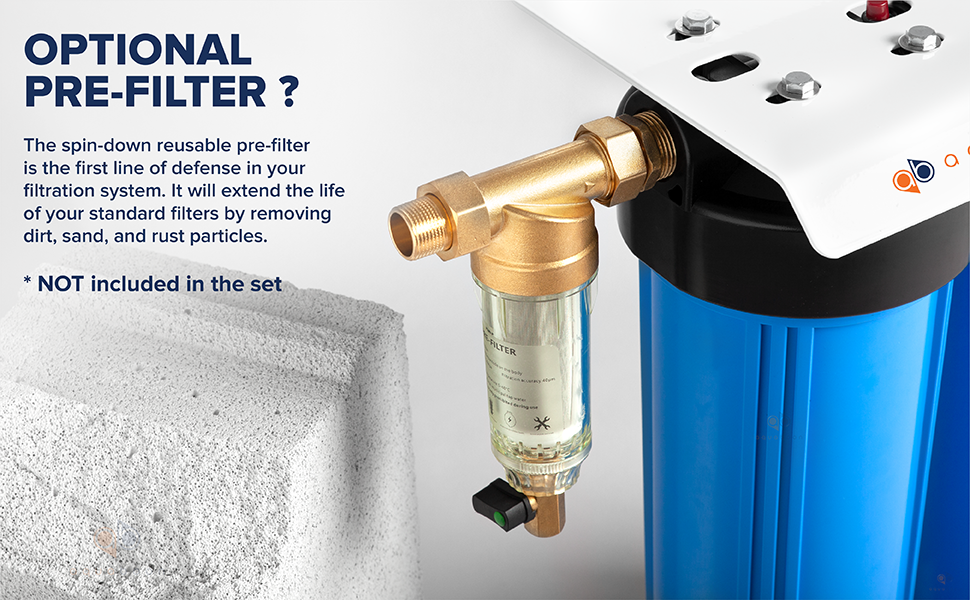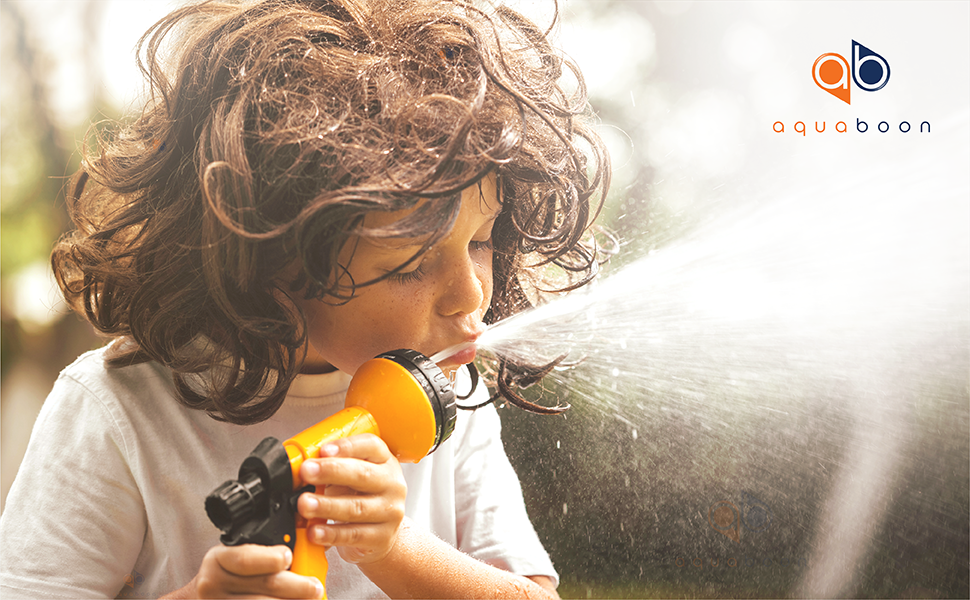 [COMPLETE SET] Our 2-stage Whole House water filtration system by Aquaboon allows you to no longer worry about the water in your house. Clean water for all your faucets thanks to 2 stages of filtration! 1-stage:Remove sand, dirt, silt, and rust particles. 2-stage:Removes Chlorine, Total Organic Carbon (TOC), Pharmaceuticals, Turbidity, Pesticides, hydrogen sulfide, other Chemicals and bad tastes and odors.
[SAFE AND CLEAN] High quality of materials of Big Blue Filter housings (made from FDA grade polypropylene) fits NSF standards. Our filtration system delivers large volumes of filtered water all over the house without waste of water or with no chemicals. No mater you cook or take a shower its all provided by fast flow filtration with absolutely clean and fresh water! Extends life of Washing Machines, Dishwashers, Water Heaters, Laundry machines, and other appliances.
[INSTALLATION AND USE] With our tools and instruction included you can install filtration system with no problem. Using our system you safe money by reducing the energy costs and time for maintenance! Easy to install and remove filters thanks to Pressure release buttons. Filter cartridges needs to be replaced after 6 month of usage to keep your water taste great (depends on quality of your water).
[INCLUDES] 2 OF 20" BIG BLUE WHOLE HOUSE FILTER HOUSINGS WITH Pressure release buttons, Mounting Bracket, 1 PACK OF 20" WHOLE HOUSE BIG BLUE CARBON BLOCK CTO WATER FILTER CARTRIDGE (5 MICRON), 1 PACK OF 20" WHOLE HOUSE BIG BLUE SEDIMENT WATER FILTER CARTRIDGE (5 MICRON), Wrench, Screws, 1" x 1" Nipple.
[COMPATIBLE 20 INCH CARTRIDGES] 3M Aqua-Pure AP810-2, Express Water FLTWH2045C02, Filter Specialist CMMF0520-45W1, Geekpure BC20-BB-5, Harmsco HAC-BB-20-W, iSpring FP25B, FP25BX2, KX Matrikx KX-MATRIKX- CTO2-HD20, 32-425-125-20, MAX WATER USA Inc. 104114-4, Neo-Pure MBGC-45200-05, Pentek 155358-43, CWD- PENTEK-DGD-5005-20, DGD-5005-20, EP20-BB, EP-20BB, Pura 33003117-1, Ronaqua 2C-20BB, 6C-20BB, Tier1 EP5- 20BB, P5-20BB, Valuetrex VX05-20BB, Viqua CMB-520-HF, Watts FPMB-BB5-20, MAXETW-FF20, etc.
OPTIONAL PRE-FILTER. The spin-down reusable pre-filter is the first line of defense in your filtration system. It will extend the life of your standard filters by removing dirt, sand, and rust particles. NOT included in the set.
| | |
| --- | --- |
| Actual Dimensions | L 15" x D 9 1/2" X H 23" |
| Production Rate | 15 Gallons Per Minute |
| Working Pressure | 40-80 PSI |
| Temperature Range | 40-100°F (38°C) |
| Weight | 35 lbs |
| Warranty | 1 Year Limited Warranty |
| Filters | Carbon Block Filter, Sediment Filter |