SKU#:
AB-2WH10BB-1C10BB5M-1S10BB5M
2-Stage 10" Whole House Water Filtration System by Aquaboon AB-2WH10BB-1C10BB5M-1S10BB5M
You are covered by this unconditional money-back guarantee for a full 30 days from your date of purchase.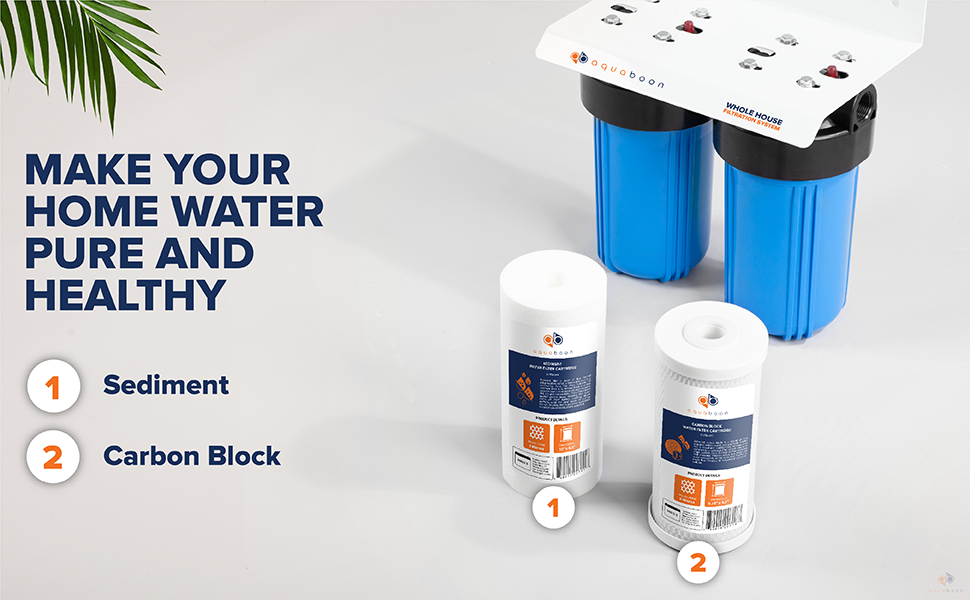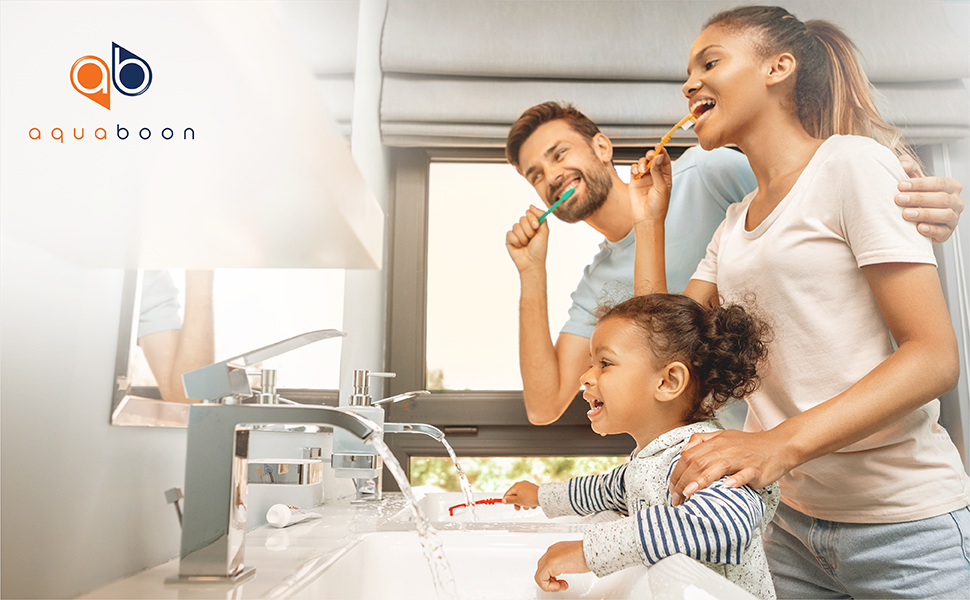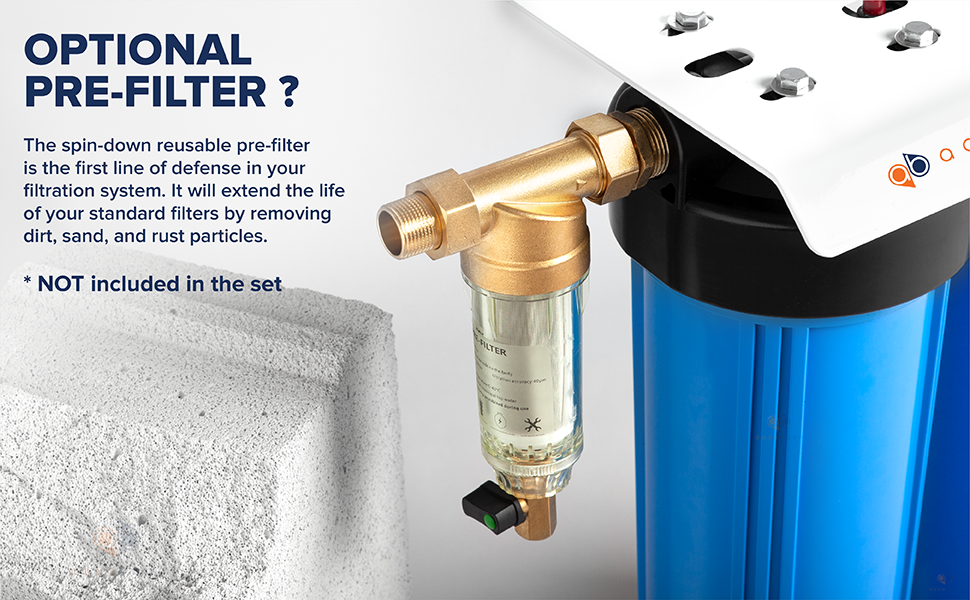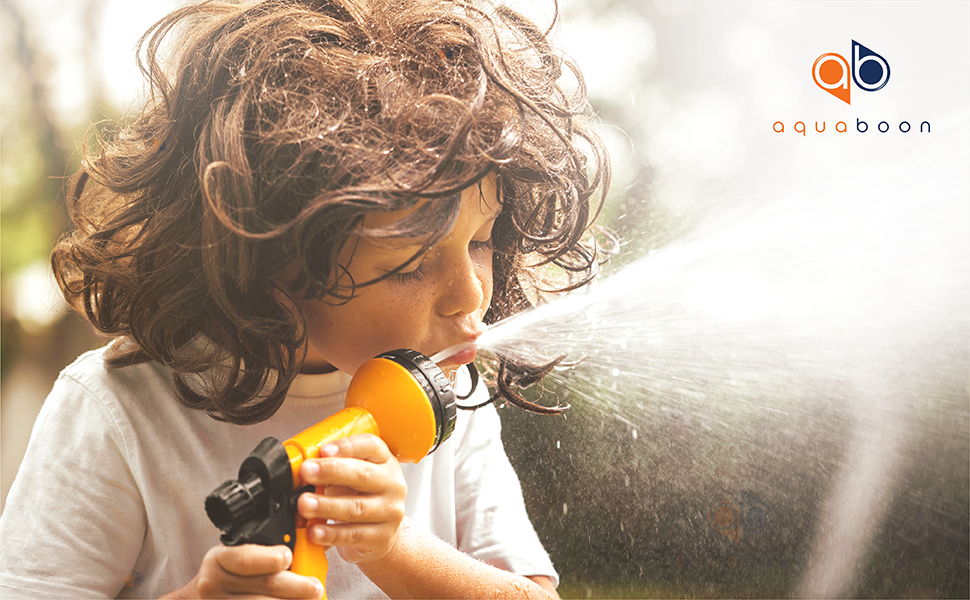 [UNIQUE CARBON] Even RO system considered to offer the purest water is unable to remove volatile organic chemicals (VOCs), chlorine and chloramines until the activated carbon filter 10" big blue (10,000 Gallon Capacity) be added to it as a filtration unit. While providing such fine purification it though let useful minerals remain in water. This unique functionality is based on the fact that carbon surface attracts only negative charged ions which are only bad ones.
[BIG BLUE] 2-stage whole house water filtration system 10" x 4.5" by Aquaboon is made from FDA grade polypropylene. The product manages with large capacities (Up to 40 000 Gallons) and high flow. If you suspect your water pressure will at any time exceed 90 PSI, a pressure regulator must be installed!
[DIRT-FREE] People are not always conscious even about sediment contained in their water. And it is not surprising as all suspended solids are close to 5 micron that is twenty times smaller than the very human hair. Our 1" whole house sediment filter (replace 2-3 times a year) is meant to make your water dirt-free. Otherwise, the latter can at least weaken your immune system not saying about more serious illnesses, like cellular damage or even cell mutation (cancer).
[COMPATIBLE SYSTEMS] iSpring WGB21B, BLUONICS BLBB10SEDCTO, BLBB10x2, Geekpure 2 Stage 124-10S, 2 Stage 124-10, BB-10B, BB-10T, Max Water 105847-2, Pentek 150237, Ronaqua RA-2-124-10
[COMPATIBLE CARTRIDGES] BLUONICS BLCTOSED10X8, CTOSED10B8, ClearChoice 84629, DuPont WFHDC8001, DUPONT-WFHDC8001, Geekpure PP2CTO2-10, Hydronix CB-45-1005, iSpring F4WGB21B, KX MATRIKX 32-425- 125-975, Matrikx 32-425-125-975, KX Technologies 32-425-125-975, MATRIKX- CTO2-HD10, Liquatec CB-450-975-05, Pelican CB-BB-10, Pentek 155548-43, EP-BB, EPM, CBC, CCBC & CEP Series, EP-BB, CFB-Plus10BB, 255677-43, Trojan CB-BB- 10, Watts MAXETW-FF975, WCBFF975, Wholesale Market LLC PPCTO-10B4, WM CTOSED10B4
OPTIONAL PRE-FILTER. The spin-down reusable pre-filter is the first line of defense in your filtration system. It will extend the life of your standard filters by removing dirt, sand, and rust particles. NOT included in the set.
| | |
| --- | --- |
| Actual Dimensions | L 22 3/8" x D 9 1/2" x H 13 1/4" |
| Production Rate | 15 Gallons Per Minute |
| Working Pressure | 40-80 PSI |
| Temperature Range | 40-100°F (38°C) |
| Weight | 23 lbs |
| Warranty | 1 Year Limited Warranty |
| Filters | Carbon Block Filter, Sediment Filter |