3-Stage 10" Whole House Water Filtration System by Aquaboon AB-3WH10BB-1C10BB5M-2S10BB5M

SKU#:
AB-3WH10BB-1C10BB5M-2S10BB5M
You are covered by this unconditional money-back guarantee for a full 30 days from your date of purchase.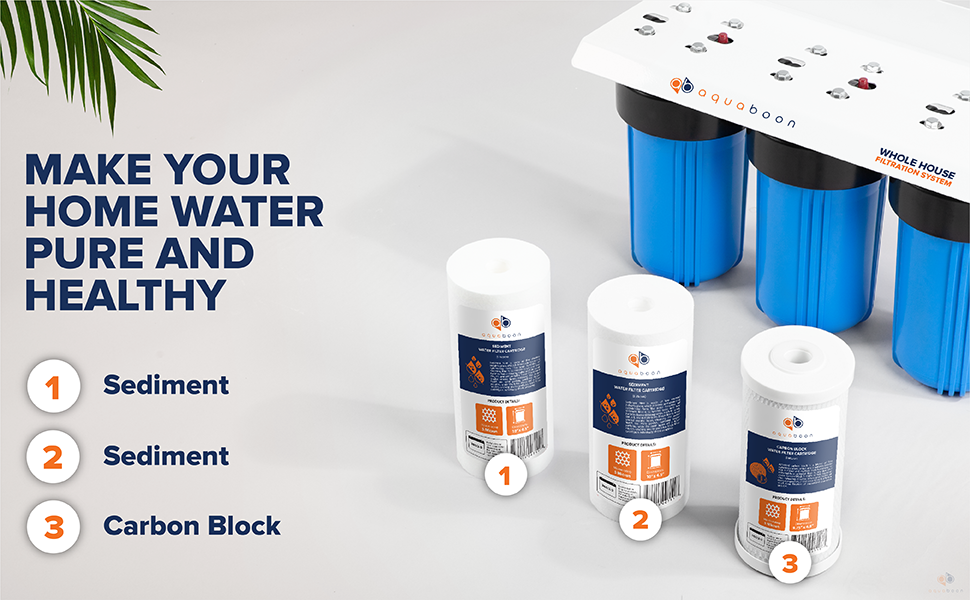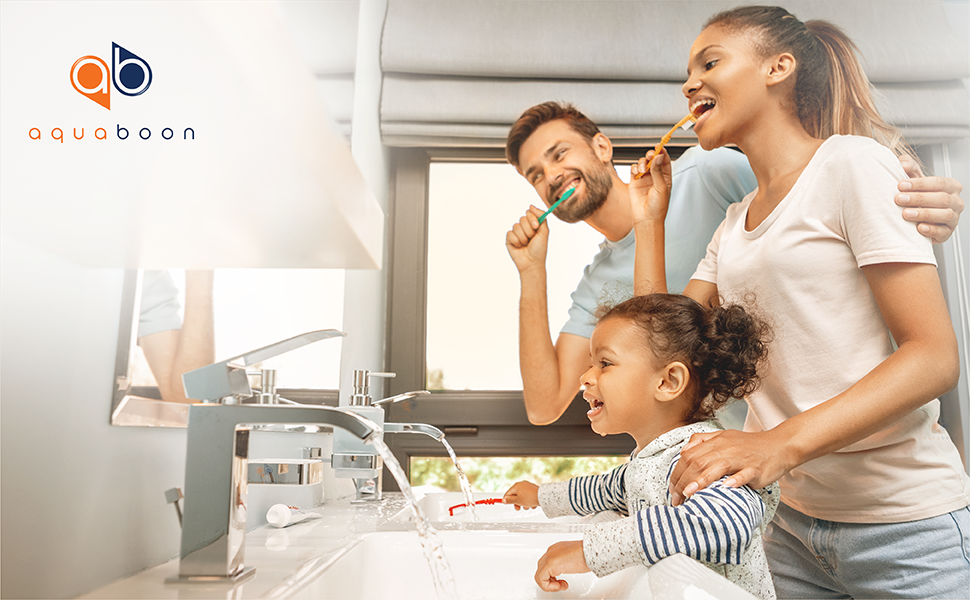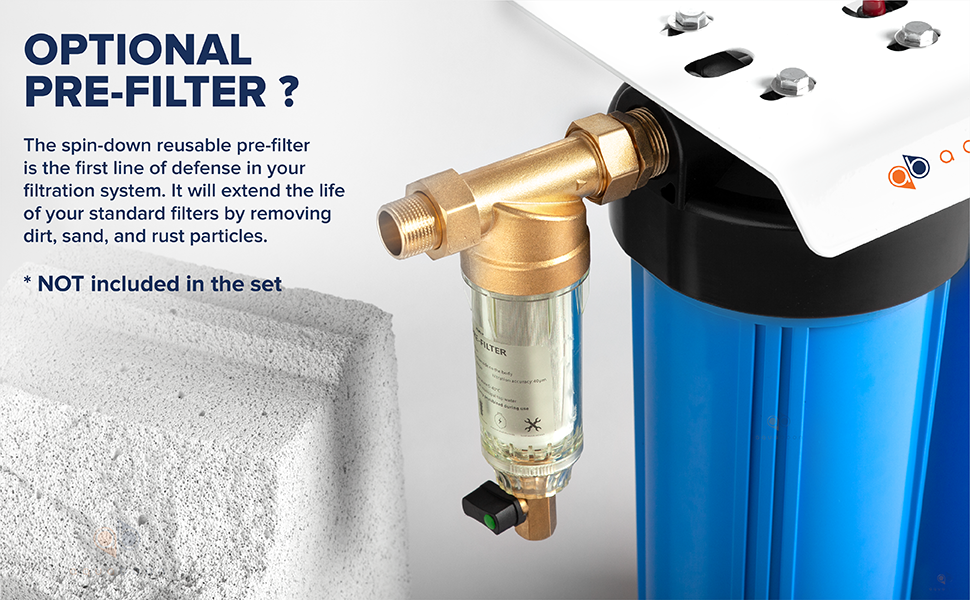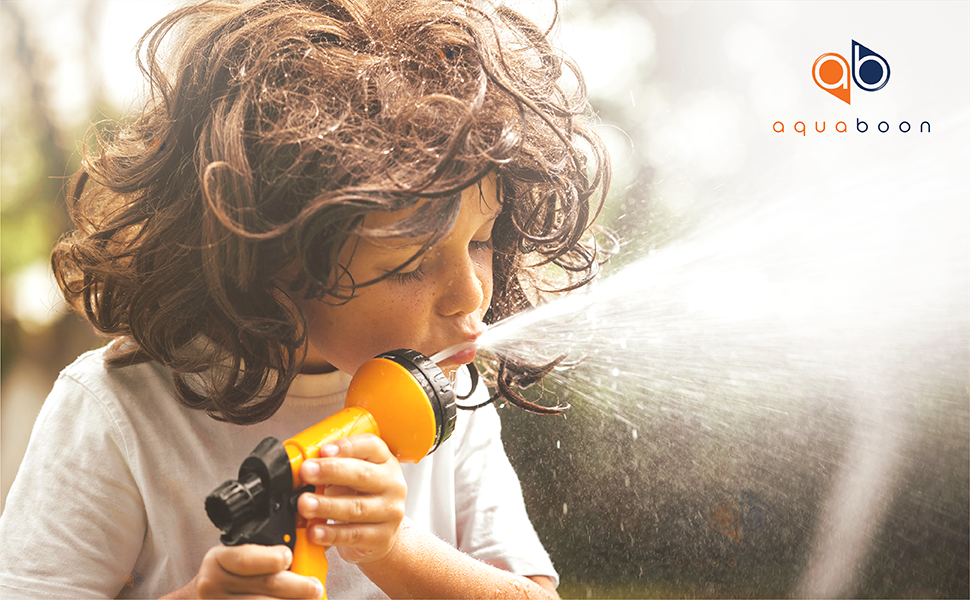 [CARBON] Chlorine must be the most well known contaminant removed by the carbon whole house water filter 5 micron. If your water is the source of unpleasant taste or odor and has a specific color that makes it only partially transparent you also need the one. Such anomalies are explained by decaying plant and animal matter and there is no difference whether its supply is well or municipal. The 10" activated carbon block cartridge flow rate is 3 GPM. Replace it once or twice a year (10 000 Gal).
[POLYPROPYLENE] The process of making replacement sediment filter reminds the one of spooling a cotton candy. The polypropylene microfibers are short out of a gun to form a cartridge. The product (5 GPM) is used for pretreatment purposes not by chance. It is the filtering material that makes it suitable for untreated water without fear of microorganism growth. Bravely use 10" x 4.5" sediment water filter for well or rain water. It's lifetime 4 - 6 months.
[HEAVY SEDIMENT] Natural sources such as well, lake, stream, pound increase the risk of heavy sediment in water. The turbidity is the negative result of debris, but it is only the tip of the iceberg that you can catch by your eye. Damaged pipes, malfunction of your kitchen equipment is not often associated with suspended particulates in your tap water, but it is. Our 2 of 10" sediment cartridges can solve such severe problems as well as protect the next carbon block filter by Aquaboon.
[COMPATIBLE SYSTEMS] Ronaqua RA-3-123-10, RA-3-124-10S
[COMPATIBLE CARTRIDGES] Geekpure 10B-PP4CTO2, PP2CTO2-10, BLUONICS BLCTOSED10X8, iSpring F4WGB21B, DiscountFilterStoreP5_10BB, DuPont WFHDC8001, DUPONT-WFHDC8001, iSpring FP15B, KleenWater KW4510CB-Qty3-KW101-Qty1, KX MATRIKX 32-425-125-975, Matrikx 32-425-125-975, KX Technologies 32-425-125-975, MATRIKX-CTO2-HD10, Liquatec CB-450-975-05, Pentek EP-BB, CFB-Plus10BB, EP-BB, 255677-43, 155548-43 EP-BB, Watts MAXETW-FF975, Fette Filter COMINHKPR125117
OPTIONAL PRE-FILTER. The spin-down reusable pre-filter is the first line of defense in your filtration system. It will extend the life of your standard filters by removing dirt, sand, and rust particles. NOT included in the set.
|   | Standard |
| --- | --- |
| Actual Dimensions | L 22 3/8" x D 9 5/8" x H 13 1/4" |
| Production Rate | 15 Gallons Per Minute |
| Production Range | 40-80 PSI |
| Temperature Range | 40-100°F (38°C) |
| Weight | 32 lbs |
| Warranty | 1 Year Limited Warranty |
| Filters | Carbon Filter, Sediment filter |