3-Stage 10" Whole House Water Filtration System by Aquaboon AB-3WH10BB-1C10BB5MP-1S10BB5MP-1PL10BB5M

SKU#:
AB-3WH10BB-1C10BB5MP-1S10BB5MP-1PL10BB5M
You are covered by this unconditional money-back guarantee for a full 30 days from your date of purchase.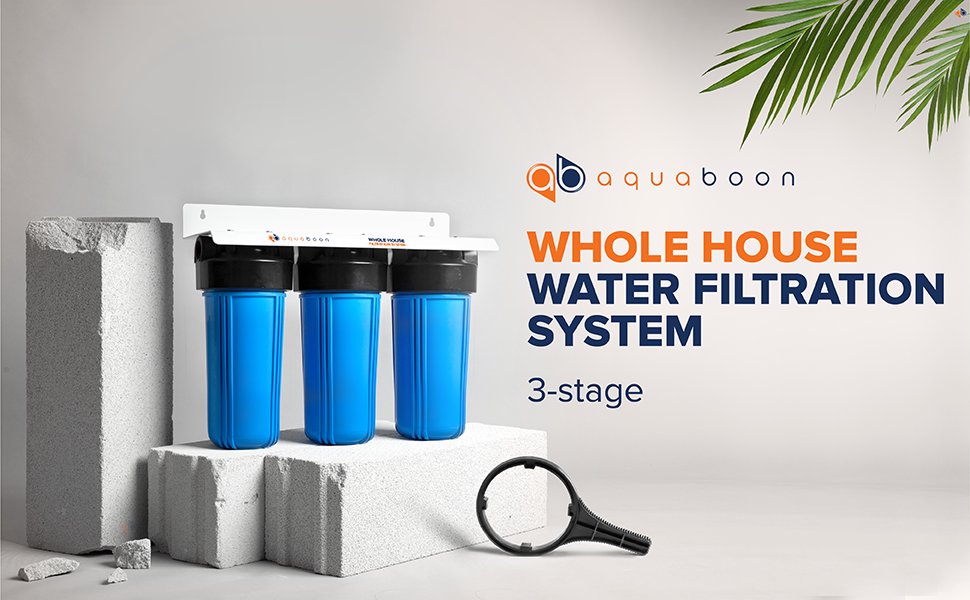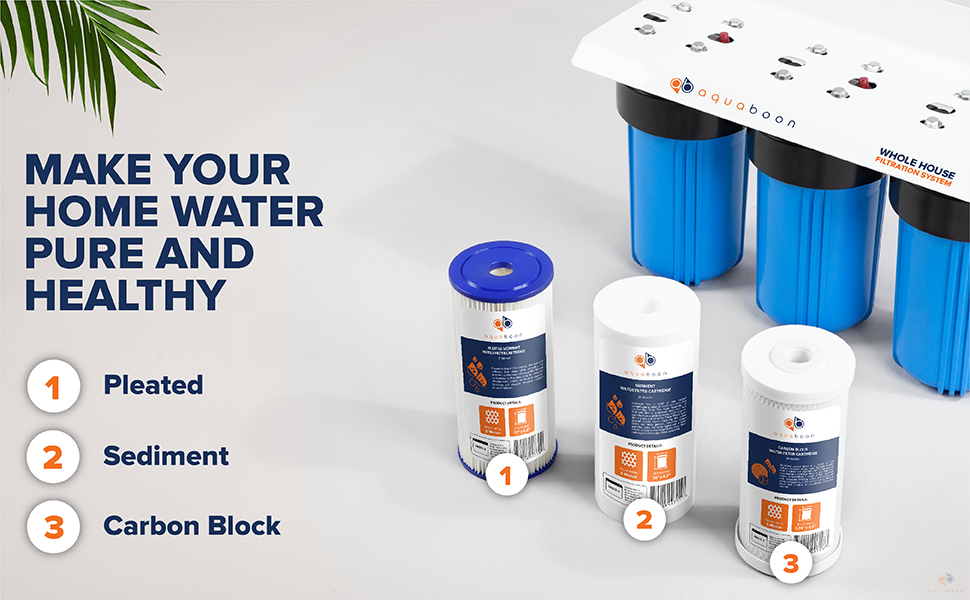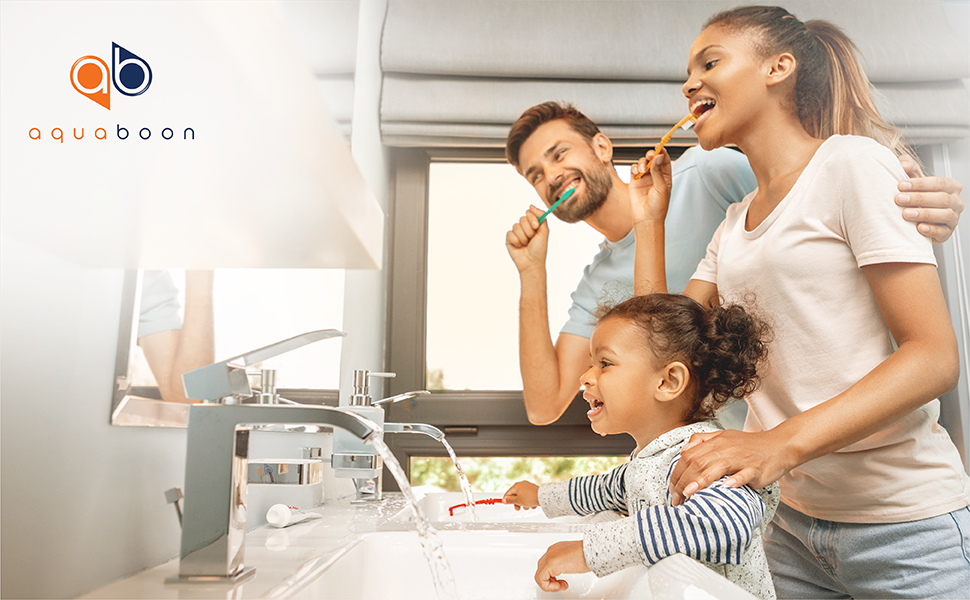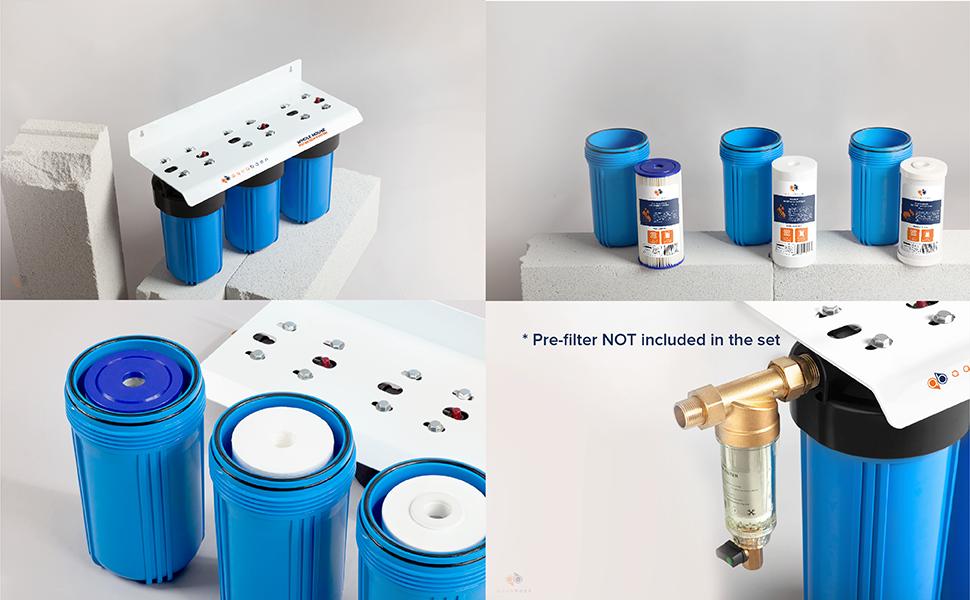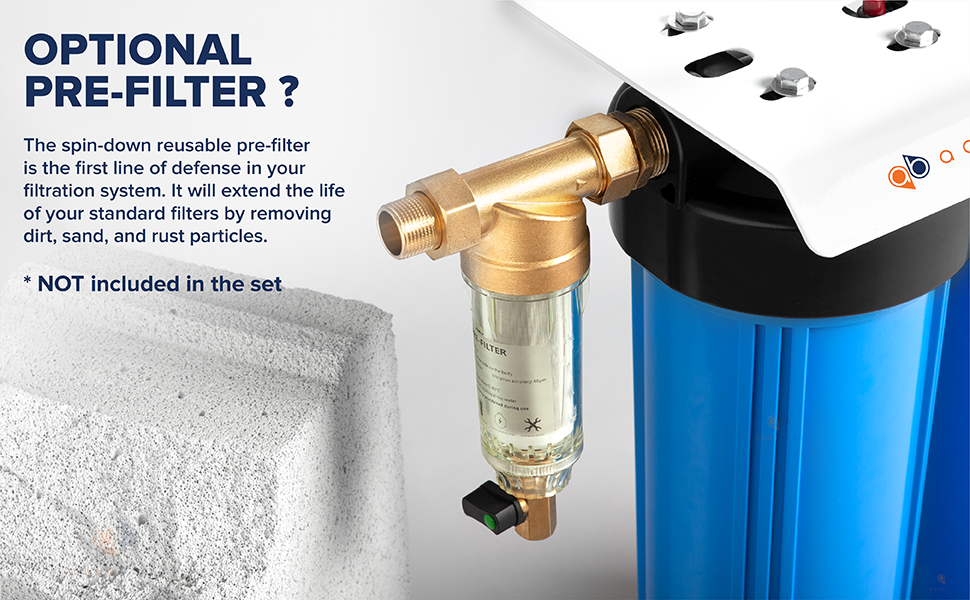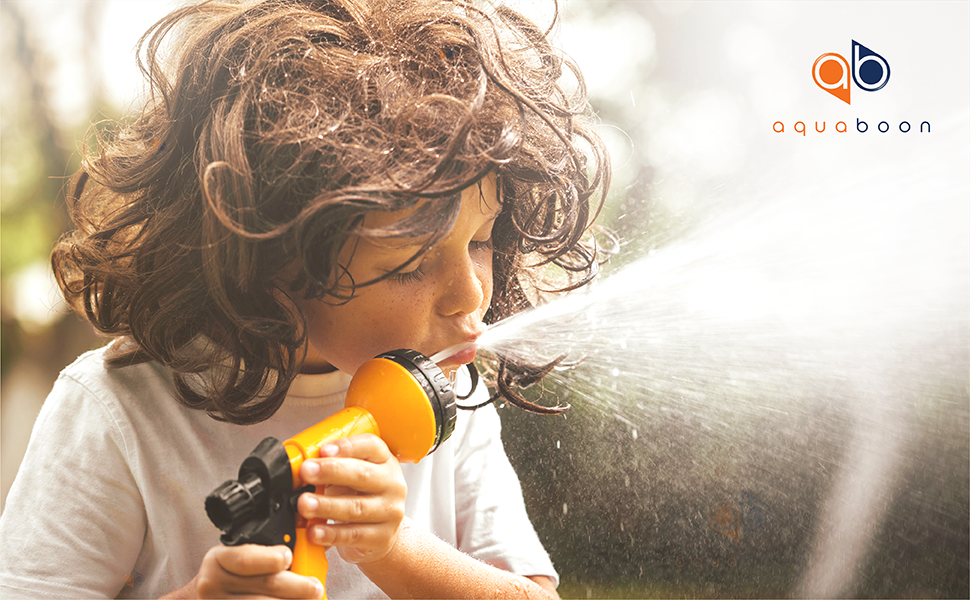 [TRIPLE SYSTEM] Stop bothering about the quality of your water, as 3-stage whole home water filtration system include all necessary options. While two 10" sediment replacement cartridges remove rust, clay particles, small pieces of organic matter, at the same time ensuring stable water flow, carbon block CTO filter 5 micron performs different job due to special adsorption capabilities to eliminate: all chlorine, chemicals, pesticides, unpleasant tastes and odor along with harmful heavy metals.
[PLEATED AND DEPTH] The work principle of any 1" whole house sediment cartridge (4 - 6 months) is similar: the liquid flows through the walls of the filter, then purified water fills the tube shaped core that is initially empty inside. Though, in the case with depth style, the filtration media consists from the surface area and the very depth, while in the 10" x 4.5" pleated cartridge design the second aspect is absent. However, the first one is greatly increased thanks to the numerou
[CARBON BLOCK] Apart from 10 inch activated carbon (replace once or twice a year) useful features in themselves, the very block construction provides a range of additional advantages that bring to the highest efficiency: a great surface because of the tiniest grains, long contact time due to its tightness and the uniformity resulted from the binding of all the particulates by a special agent. Compared with GAC filters the latter issue prevents fluidizing.
[COMPATIBLE SYSTEMS] Ronaqua RA-3-124-10S, RA-3-123-10
[COMPATIBLE CARTRIDGES] Whirlpool WHKF-WHPLBB, American Plumber W50PEHD, W5CPHD, AquaPureAP810-2, CulliganCP5-BBS, CP5-BB, R50-BBSA, DuPontWFHDC8001, HDC3001, GEFXHSC, HDX HDX4PF4, KX Technologies 32-425-125-975, LiquatecSPF-45-1005, SPF-45-1030, Neo-Pure PS-45097-05, Omnifilter RS6, PentekEPM, S1-BB, CBC, EP-BB, R30-BB, ECP5-BB, R50-BB, CFB-Plus10BB, 255490-43, EP-BB, EP, ECP1-BB, Watts FM-BB-10-5, PWPL10FFM5
OPTIONAL PRE-FILTER. The spin-down reusable pre-filter is the first line of defense in your filtration system. It will extend the life of your standard filters by removing dirt, sand, and rust particles. NOT included in the set.
| | |
| --- | --- |
| Actual Dimensions | L 22 3/8" x D 9 5/8" x H 13 1/4" |
| Production Rate | 15 Gallons Per Minute |
| Working Pressure | 40-80 PSI |
| Temperature Range | 40-100°F (38°C) |
| Weight | 32 lbs |
| Warranty | 1 Year Limited Warranty |
| Filters | Premium Carbon Block Filter, Premium Sediment Filter, Pleated Sediment filter |