Filter
Various water treatment strategies exist. However, taking advantage of a 10 x 4.5 water filter cartridge is an excellent way to ensure safe and fun hydration.
These cartridges will effectively intercept and neutralize impurities that come into contact with water as it flows through the piping system and into your home. Unfortunately, most of these pollutants harm our family's health, making our kids prone to water-borne diseases.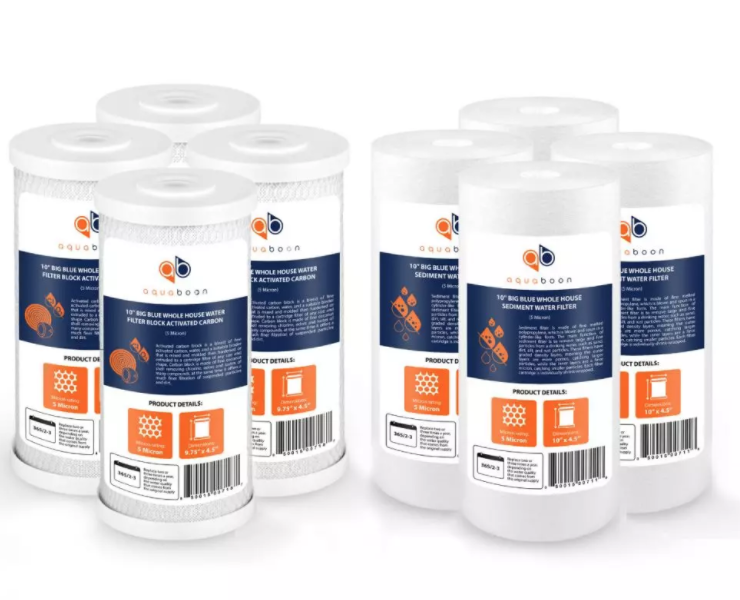 Even with a clean and rust-free piping system, you can still leverage the perks of 4.5 x 10 water filter cartridges. These purification mediums will effectively neutralize decontaminating agents that treatment plants use, improving your water's taste and eliminating any foul smells. 
Contaminants that these filters can remove
These cartridges eliminate a variety of pollutants. However, the cartridge to pick highly depends on the impurities you want to remove.
Sediment filter cartridges, for instance, provide an effective way to intercept insoluble waste, which includes:
Clay

Sand

tiny rocks

Scale

Rust particles

Silt

Particulate matter. 
On the other hand, you will need carbon block water filters 4.5 x 10 inch to successfully neutralize chemicals, chloramines, gases, and heavy metals, which include but is not limited to:
Lead

Hydrogen sulphide

Pesticides

Mercury

Chlorine

Cadmium 

Fluoride 

Nitrates 
For efficacy in the purification process, these two cartridges are used hand in hand. The sediment cartridge sets the stage, sifting out particles before their carbon counterparts removes the soluble contaminants present.  
It's vital, however, to change the cartridges often. After some time, these cartridges will reach the end of their working life, where they will have trapped dirt and bacteria to full capacity. Continued use of depleted cartridges means purification procedures are no longer conducted at optimal levels. Also, the risk of releasing previously trapped waste into the water is significantly high.
Generally, replacements are done twice a year or per the manufacturer's recommendations. Additionally, a lower water flow indicates that the cartridges are soaked and need to be switched out.    
Where to order 10 x 4.5 inch replacement water filters in US?
FilterWay is a renowned seller in the US, providing a vast array of water filter replacement cartridges. Whether you want to buy a carbon or sediment water filter cartridge 10 x 4.5 inch, be sure that you will find one best suited for your desired application.
Place your order today.