Filter
Refrigerator filters are essential components that ensure your fridge is working at optimal levels. They are vital for ensuring you have fresh-tasting water and the food stored in the refrigerator maintains its fresh smell.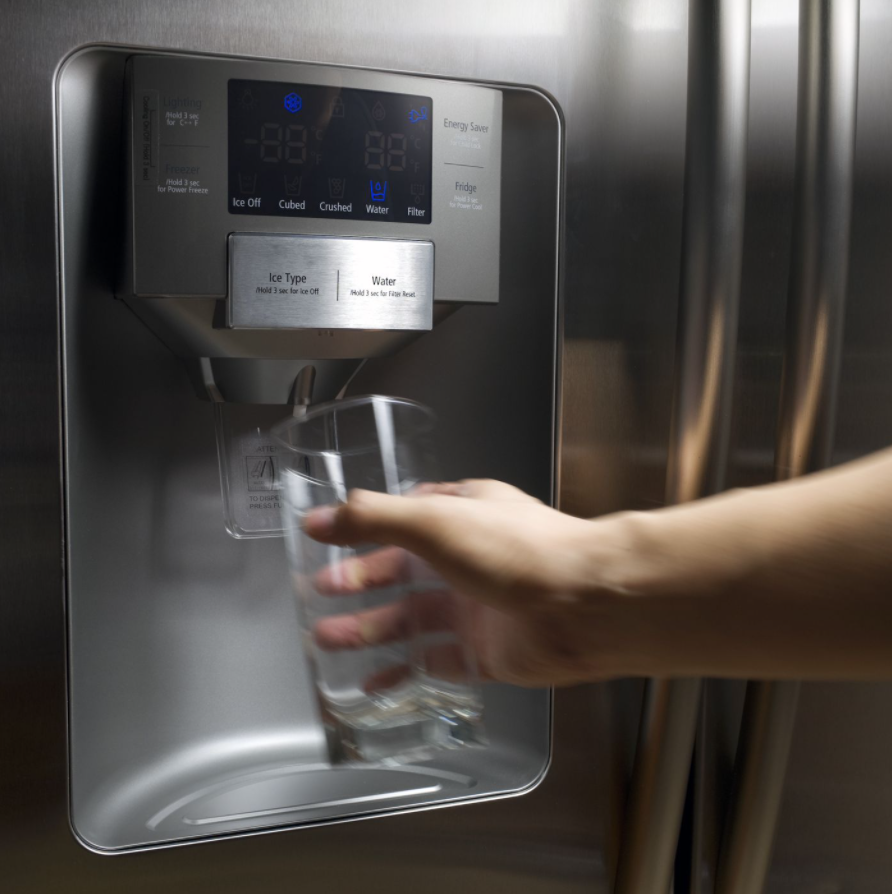 Being NSF 42 certified, Amana refrigerators filters trap various contaminants that may seep into your cup. Chlorine and iron are some of the harmful substances it will sieve out.
With such a device, you need not worry about particles in your drinking water or ice cubes. It will effectively block sand, silt, and other contaminants that were left behind at the treatment plant. You can also rest assured that the refreshing glass is free from cysts, thanks to its micro-filtration capabilities.
How Does An Amana Water Filter Work?
Amana water filters take a straightforward approach as to how they work. They contain activated carbon that is instrumental in the filtration and purification process. Once the water goes into the dispenser, the activated carbon traps all unwanted particles and contaminants, including dangerous ions, chemicals, and gases.
However, to maintain the best water quality, you will need to replace the refrigerator cartridges regularly.
Amana filters from Filterway will effectively attract and trap harmful particles and microorganisms, keeping your water fresh. After some time, though, it will be covered with contaminants, making it impossible to handle its tasks satisfactorily. As a result of poor filtration, some impurities will pass through. Even worse, since the water goes through a dirty filter, it might come into contact with some of the trapped particles and impurities, compromising its quality.
So, be sure to change the cartridges at least every six months. That way, they work at optimal levels, and you are sure your family is enjoying clean and fresh water.
Benefits of Using An Amana Water Filter
Amana water filters present a myriad of benefits. They include:
You drink fewer toxic substances:

Water filters for GE refrigerators

get rid of chlorine, iron, sand, silt, harmful gasses, and dangerous ions in your water. They also remove metals that are hazardous when ingested.

Cost-effective: Installing an advanced filtration system costs hundreds of dollars, while replacement water filters for Amana refrigerators, which function as well, cost only a few dollars.

Better quality of life:

fridge water filter LG

provides you with clean water, significantly decreasing the chances of you or your family developing stomach aches and other illnesses. Too much chlorine, for instance, can cause skin irritations and breathing problems - situations that you can avoid by using Amana filters.

Prolonged Fridge Life: the activated carbon in the cartridges get rid of harmful substances that are not only harmful to your overall health but may lower your fridge's lifespan.
Types of Amana Filters
There are two types of Amana refrigerator filters. They are namely: the Amana Clean n' Clear 12527304 and the Amana PuriClean II filter, which are both installed inside the fridge, towards the rear side.
Amana Clean n' Clear 12527304 cartridges are not only for Amara fridge brands but can also be ideal Kenmore filters. On the other hand, you can also use Amana PuriClean II cartridges for Kitchen-Aid, Whirlpool, Maytag, and Jenn-Air refrigerator brands. 
Both have a working life of six months or 300 gallons for  Amana Clean n' Clear 12527304 and 750 gallons for Amana PuriClean II filters, whichever comes first.
How to Install
Installing filters for Amana refrigerator is a straightforward process.
Below is a step-by-step guide:
First, you need to locate the cartridge. With most Amana refrigerators, it is located inside the fridge in the top left corner.

Next, you need to open its housing case. To do this, you will push the cover in and then pull it downwards, exposing the cartridge.

To dislodge it from the case, firmly hold the cartridge's head with your left hand with the right hand holding its bottom.

Then, twist it anti-clockwise until it comes off using your right hand.

Take the new water filter for Amana fridge and install it into the case, making sure to align the screws. That's it!
If you are unsure how to go about it, you can always read the manufacturer's guide or contact your seller.